Things have been pretty intense here lately getting ready for Christmas. The hip has been slowly progressing but some days it's popping in and out of alignment and nothing short of icing it constantly helps.
One of my favourite, stress reducing past-times is making graphics featuring my cats. I like the editing and cropping, the creativity of it all.
So, here are 4 Cat Christmas Cards, only 3 of which actually feature cats. The Kiwi one was just too nice not to share. I didn't take the photo, but it sums up the relaxed nature of Kiwis at Christmas.
Twas the night before a Kiwi Christmas:
On Christmas Eve, Santa's Elves make sure the reindeer are well fed for tonight's magical journey:
Tropical Kitty Christmas: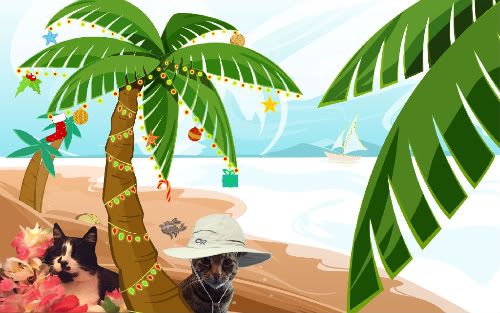 Wanted:
Merry Christmas to you all, and a flare free day (hopefully)!
Edited: I posted this with the big images first, and then shrunk them using Photobucket, so the text isn't fab. Click for the larger image.